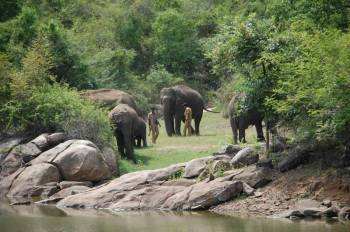 *Morning:*
- **Early Departure to Bannerghatta National Park:** Embark on a thrilling adventure to Bannerghatta National Park, home to a variety of wildlife. Explore the safari area, butterfly park, and the zoo.
*Lunch:*
- **Picnic Amidst Nature:** Enjoy a picnic lunch within the tranquil surroundings of Bannerghatta National Park.
*Afternoon:*
- **Zipline Adventure:** For those seeking an adrenaline rush, engage in ziplining and other adventure activities within the park.
- **Shopping at Orion Mall:** Indulge in some retail therapy at Orion Mall, one of the largest shopping destinations in Bangalore, offering a wide range of brands and entertainment options.
*Evening:*
- **Return to the City:** Head back to the city and relax at your hotel or explore a local market for some souvenir shopping.
*Dinner:*
- **Rooftop Dining:** Conclude your trip with a delightful rooftop dinner at one of Bangalore's rooftop restaurants, offering a panoramic view of the city.
*Departure:*
- **Private Cab Drop-off:** On the final day, a private cab will take you back to the airport for your departure, ensuring a comfortable and stress-free journey.
This 3-day itinerary captures the essence of Bangalore's rich history, stunning gardens, cultural landmarks, shopping extravagance, and even a touch of wildlife adventure. Make sure to adapt the schedule based on the opening days/hours of each attraction and your personal preferences. Enjoy your Bangalore getaway! Plus this Itinary can customised according to you!