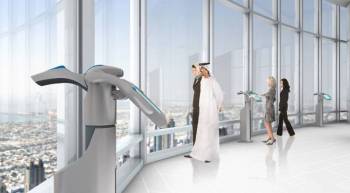 Be thrilled by the world's fastest double deck elevators, cruising at 10m/s.
Take a closer look at the world below through avant-garde, high powered, telescopes.
Level 125 offers a spacious deck tastefully decorated in Arabic mashrabiya for stunning 360-degree views.
Set off on a virtual reality experience to the pinnacle of Burj Khalifa.
Also Explore the world of the water animals including 40-year-old giant crocodile weighing 750 kg, pelagic fish, piranha, penguin, lizards, snakes and sharks and a lot more of incredible species. The Dubai aquarium is a 10-million-liter water tank epitomizing the beauty, tranquility and the depth of the underwater world.